Jack Hall Blog
ESCANABA, MI--SEPTEMBER 3, 2014-1:58 A.M.
Many of you reading this probably think that the minimum wage increase that took effect this week in Michigan is a good thing. After all, what could be wrong with folks who are barely scraping by to have a few extra dollars in their pockets? That helps people, right?

Well, except for the young people who I know lost their jobs today in Escanaba because the business they worked for decided that it was too much to pay them the new wage.
That business owner decided to find other ways to keep things running....in part, by automating (using computers), and in part, by simply not having staff on hand at certain hours of the week.

I also know of people who work at other businesses in the area who have had their hours cut back this week. So they may be making more per hour, but these businesses are giving these people fewer hours. The businesses are adjusting and making do with fewer man hours.

So, the people that are supposedly being helped by the minimum wage increase are being hurt.
Oh yes, the Liberals will tell you that this is because the business owner is being greedy and could easily pay the higher wage. But, really, what did you think businesses...who have to make a profit or die...would do when they were told by the government that they had to pay workers more per hour?

Some of my Liberal friends tell me that the company managers and CEO's are making too much, and these companies should simply pay workers more and maybe cut the pay of these rich executives.
But that is not how capitalism works. People work their way up to become CEOs and Managers on the promise that they will make more when they reach those goals. So, they are supposed to just give it back because the government decides that people at the bottom of the pay scale should be paid more?
All this new law has done is cost people their jobs, and it will also lead to price increases for products and services at restaurants, grocery stores, gas stations, and other businesses that have a substantial number of people making minimum wage. Nice job politicians! Way to "help" the little guy.
---later, Jack
---
ESCANABA, MI--SEPTEMBER 1, 2014-1:33 A.M.
Labor Day weekend just isn't the same for me.
Here I am, at 1:30 in the morning, and I tune in to the "MDA Show of Strength" program to raise money for the Muscular Dystrophy Association. It was two hours long, full of short bits of entertainment from hip, young bands...country, and pop.

What a far cry from the tradition that I grew up with: the Jerry Lewis Telethon that ran 21 1/2 hours on television stations across the country.
We'd find out about the personal stories of people who are dealing with muscle disease. We'd go to "local segments" where people in the TV-6 studio in Negaunee would answer calls for pledges. We'd hear about kids in our area. Now, we get a "slick production".

The way that the MDA tossed Jerry Lewis to the curb several years ago was a disgrace, in my opinion. And this new two-hour show fails to "get it done". I miss the old telethon, watching people in the wee hours of the morning struggling to keep their eyes open, all to help Jerry's Kids. Now, I guess we're stuck with "quick and slick" and then on to the next show.
---later, Jack
---
ESCANABA, MI--AUGUST 28, 2014-1:55 A.M.
The Michigan House passed legislation on Wednesday that allows wolf hunts to continue in the Upper Peninsula. I believe this was good move that was based on common sense...and it cleverly beat back the radical anti-hunting groups like the U-S Humane Society.
The Humane Society, under the name "Keep Michigan Wolves Protected", collected petition signatures to put the question of whether we should have wolf hunts on this November's ballot.
That group urged lawmakers to reject the pro-wolf hunting bill, and send it to the ballot to compete against the two proposals that seek to ban wolf hunting.

Well, normally, I would agree. Let the people decide.

The problem is, the pro-hunting proposal would have been drowned out by the big money of the Humane Society, which would have flooded the TV airwaves in the big cities downstate about how the beautiful gray wolf is being threatened by bloodthirsty Upper Peninsula hunters in search of trophies.

Sportsmen groups had no prayer of competing in the "marketplace of ideas" in places like Detroit, Flint, Lansing, Saginaw, and Kalamazoo. That's where the votes are, and people there, who don't have to deal with wolves in their back yards, would very likely have been swayed by these emotional TV ads that show the poor wolf being decimated by those heartless Yoopers.

So, State Sen. Tom Casperson (R-Escanaba) and State Reps Ed Mc Broom (R-Norway) and John Kivela (D-Marquette) championed this ballot proposal...pushed by sportsmen...and sent it to the only place where they had a fair shake against the "antis": the state legislature.

The Humane Society and its affiliated groups were free to try to convince lawmakers of both parties to see it their way. But facts are facts, as McBroom laid out in a passionate floor speech on Wednesday that should be recorded for future generations of hunters to hear.
Quite simply, McBroom urged his colleagues to "help the Upper Peninsula". Help us keep a tool that can be used to protect our livestock, dogs, yes, our children, from the growing population of wolves.

And lawmakers from both sides of the Bridge understood. 65 of the 108 state reps and 23 of the 33 state sentaors who voted...many of them with no wolves in their districts...voted to help the Upper Peninsula deal with this problem.
I interviewed Jill Fritz from the US Humane Society. She told me that it is a "small population of wolves that isn't bothering anybody".
If that is true, then I submit to Ms. Fritz and her colleagues that they should take a trip to Ironwood, or to Engadine, or to Norway. Find a few wolves. If they are really so harmless and cute and cuddly (kind of like a kitten or puppy), then go up to the wolves and give them a hug. On camera.
Heck, Ms. Fritz, why don't you take a few wolves back home with you downstate, to places like Farmington Hills, Westland, Okemos, Grand Blanc, or Saginaw? Then you can share this natural treasure with the very people who you want to cast votes in favor of your hunting ban!
Yes, I encourage you to set free these beautiful, harmless wolves, right next to your community park, senior center, Little League field, or in your upscale condo community.

You should also put radio collars on them so that you can track them. And I suggest that you make sure that you bring them plenty of food and water and, of course, a big hug every night.
Pose for photos with them, too, Ms. Fritz, and give these gray wolves cute "baby names". Cuddle with them and gush about them on your Facebook status.
If you do that, Ms. Fritz, and prove that these animals are indeed harmless, then I will join your coalition. But until then, madam, I suggest that you mind you own business and keep your nose out of how we live here in the Upper Peninsula. Thankfully, state lawmakers from BOTH sides of the Bridge have agreed.

---later, Jack
---
ESCANABA, MI--AUGUST 26, 2014-1:51 A.M.
I got bored tonight and decided to look back and see just how many state championships our Delta County Little League All-Star baseball and softball teams have won over the years.
And just how many times have teams from our small communitty made it to the World Series?
Well, since 2001, I can find 12 state champions, and five of them won their regionals and made it to the World Series. And this does not count the 9/10 year-old Little League teams that won state championships, because at that age group, you do not advance past the state level.
(Pictured at left: the 2007 Gladstone Major Girls at the World Series in Portland, Oregon)

In 2001, the Gladstone Senior Girls (age 15-16) made it all the way to the World Series Championship game in Kentucky. That same summer, the Gladstone Junior Girls (age 13-14) made it to the regionals in Akron, Ohio, before bowing out.

In 2002, the Gladstone Senior Girls again made it to the World Series Championship Game in Kentucky.

In 2003, the Escanaba Major Girls (age 11-12) made it to the World Series in Portland, Oregon, while the Gladstone Senior Boys (age 15-16) went to regionals in Peru, Illinois.

In 2005, the Gladstone Major Girls lost in the regionals in Joplin, Mo., and in 2006, the Gladstone Senior Boys again made it to the regionals in Peru, Illinois.
In 2007, I had the privilege of traveling to Portland to watch the Gladstone Major Girls play in the World Series, and finish third in the world.
(Pictured left: the 2012 Delta County Junior Boys make it to regionals in Fort Wayne, Ind.)
Then, for the next four years, I thought that Little League was dying in Delta County, as we had no teams win state titles.
But in 2012, there I was on a plane again, as the Escanaba Junior Girls went to the World Series in Kirkland, Washington. And in that same year, the Delta County Junior Boys won a state title and played in the regionals in Fort Wayne, Indiana.
In 2013, the Escanaba Senior Girls (age 15-16) won a state championship and made it to the regional championship game in South Bend, Ind. And this summer, the Escanaba Junior Girls won an unexpected state championship and went to the regional title game in Akron, Ohio.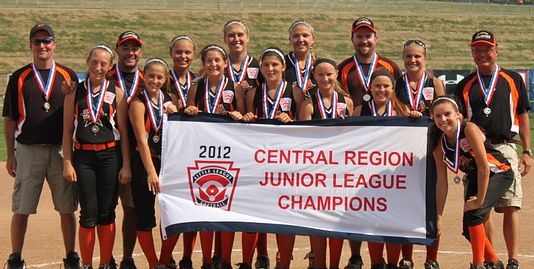 The memories I have posted here only go back to 2001. I, of course, remember broadcasting the Gladstone Major Boys in 1996 and Gladstone Junior Boys in 1997, as they won state championships and came oh-so-close to going to the World Series.
In '96, the Gladstone Major Girls also came within one win of going to the World Series, and the Gladstone 9-10 girls won a state championship in the summer of 1996. (Pictured at left: Escanaba Junior Girls went to the World Series in 2012)
The Escanaba Major Girls made a World Series appearance back in the 90's out in Portland, although I didn't get to go. And there have been other state championships, like Gladstone's 9-10 girls winning in Grand Rapids in 2012 (the third state title that year, just like in 1996).
My memory is getting bad, but I know Ron Plum went to Joplin, Mo., with a couple of Major Girls State Champions back in the 90's.
(Pictured at left: the 2003 Gladstone Big Red boys made it to the Central Regional in Peru, Ill.)
And I remember myself going to Rock Falls, Ill., for a regional tournament with the Escanaba Big League Girls. Yep, Big League, as in 17-18 year-olds, which we haven't fielded a team here locally for a number of years.

So, while I can document 12 state champions in Delta County since 2001 (of age 11-12 and higher), there have been many others since I started broadcasting here in the winter of 1994.
It's fun to know that pretty much every summer, there's a pretty good chance that I will get to broadcast our kids from places like Indiana, Ohio, Oregon, and Washington. Hopefully, our coaches and parents continue to promote Little League to their kids, and the kids just play!

---later, Jack
---
ESCANABA, MI--AUGUST 25. 2014-1:44 A.M.
Sure, now that we finally get some summer-like weather, summer comes to an end.

The kids go back to college at NMU and Bay College today, and the younger K-12 school kids go back to class next week. At the same time, many of the municipal beaches around the Upper Peninsula will be "closing" for the season in the next week or two, as many of their trained lifeguards are college kids who are off to their various campuses for the fall.

We never really had a spring up here, with temperatures in the 40's and 50's for a lot of March and April. And our summer, up until the past few days, saw temperatures in the 60's and water temperatures in the lakes much coller than usual.

Here's hoping that families around the U.P. get together and enjoy the upcoming Labor Day weekend with some camping, fishing, swimming, and picknicking.

Let's not let this last chance at summer fun slip past us. Because the Farmer's Almanac is already predicting another nasty winter for the Upper Peninsula, Wisconsin, and Minnesota.
---later, Jack
---
ESCANABA, MI--AUGUST 22, 2014-2:08 A.M.
I'm probably going to shock a lot of you with this blog entry.
You all know that I am not a big fan of many of President Obama's actions and policies. But this whole stink that some are raising about the president being on vacation is rubbing me the wrong way.

First, let me say that every president has gone on vacation. President Bush went to Maine. His son, Bush II, went to the ranch in Texas. President Carter went to Camp David.

The fact that an American journalist was beheaded in the Middle East is horrible, but that wouldn't have changed had the president not been golfing. He came back to Washington to make a statement on the murder, met with his staff, and went back to Martha's Vineyard.

I have no problem with that whatsoever. It does not matter where Obama is physically laying his head at night. He has 100% access to all of his advisers, members of Congress, other world leaders, his military commanders, no matter where he is sitting.

Personally, I want terrorist groups like ISIS to see Obama on the golf course. Maybe those horrible people will stop thinking that they are so important. Lets not give them the satisfaction that they stopped the President of the United State from having a vacation.

I can tell you that for a full week, me, little ol' Jack Hall, was able to broadcast all of the Upper Peninsula's news every day, plus cover a Little League state tournament, from a motel room in Gaylord. With the technology we have nowadays, anything is possible.

I'm just saying....let's disagree with Mr. Obama on policy issues. But don't act so appauled and offended just because the man is on vacation. He can do his job just fine...like I did for that week in Gaylord...no matter where he is. Now, is he doing a good job on this situation? Well....
---later, Jack
---
ESCANABA, MI--AUGUST 21, 2014-12:00 A.M.
I have to be awake in five hours to cover the morning news for Susie on Magic 97 and Moose 102.5. I can never get to sleep. I lay in bed, toss and turn, even slamming a beer doesn't help.

It's because I am used to going to bed at 3:00 a.m. and waking up at noon or so. Because I work afternoons and evenings, and sleep during the day! I will give it my best though!

Congratulations to the Escanaba High School girls tennis team for its 6-2 win over Marquette on Wednesday. Nice way to kick off the new season, ladies.

And on a sad note, R.I.P. to journalist Jim Foley. He was murdered by Islamic terrorists yesterday, and the video of his beheading was sent around the world.
At first, I wasn't going to watch it. But I decided to watch it so that I could feel at least a small amount of what he must have went through, and to see for myself what pure evil is.
Make no mistake. This is pure evil, every bit as bad as what the Nazis were doing to people 75 years ago. That is not an exaggeration. This "ISIS" group needs to be defeated, and now!

---later, Jack
---
ESCANABA, MI--AUGUST 19, 2014-12:40 A..M.
Watching the live news coverage from Ferguson, Missouri, is making me sad and a bit angry at the same time.
For those of you who don't know what I'm talking about, it's been a week since teenager Michael Brown was shot and killed by a police officer.
And since then, there have been riots almost every night in that St. Louis suburb. Why? Well, the teenager was black and the officer involved was white. To me, that should be completely irrelevant. But to many of the black folks who live in that town, it does make a difference.
We know that the teenager was seen on camera robbing a party store of a bunch of cigars. The family does not dispute that. Yet they try to hold Brown up as a hero, a victim. Now, it is possible that the officer was trigger-happy and made a mistake. If that's the case, then the officer should be prosecuted. You don't shoot and ask questions later. Especially when the kid has no weapon.
But we don't know the facts of this case yet.
This isn't Law & Order or CSI, where everything is solved in an hour.
But we have people in that town who are demanding that the officer be arrested for murder, and they are riling up other people who are constantly protesting.
President Obama and Attorney General Eric Holder are not making things any better. Instead of saying "wait until the local investigators finish their work", they are sending investigators for possible "civil rights" violations. If the teenager had been white, I submit to you that Obama wouldn't have said a word. And the people of the town wouldn't be so outraged.
Then you have agitators like Rev. Al Sharpton and Rev. Jesse Jackson. They show up at every event in this country where there may have been a black person involved in a confrontation with a white person. And the white person is always automatically guilty in their eyes, and these two also get people riled up. Again, instead of letting the investigation take its course.
Then you have criminals who come in and steal things from Family Dollar and grocery stores (pictured above). And burn down a gas station.
How does that help the teen's family, or get "justice". And even that is assuming that there was an injustice done in this case.

And then there's the media. With CNN and Fox News and others on hand with satellite trucks and national reporters, some people are showing up in this town to get their 15 seconds of fame. Fox's Shepherd Smith this morning wondered out loud during his broadcast if maybe the media just being there is causing this to be even more toxic.

So, every night, we are seeing tear gas and cops in riot gear.We get "protestors" showing up with Molotov Cocktails and guns. When does this all end? Every night, the same thing.

I am not black. I am not a resident of Ferguson, Missouri. So I can't totally understand the dynamics of all of this. But I am tired of seeing these violent things happen every time there is an incident involving people of different races. (Photos are from CBS News, of which WCHT is affiliated)

---later, Jack
---
ESCANABA, MI--AUGUST 18, 2014-1:34 A.M.
The Upper Peninsula State Fair is in the books for another year.
When it started on Monday with rain showers, organizers may have been thinking "Oh boy!".
But it never rained again throughout the entire Fair Week, and the crowds were good every day I was there.
Lots of money being spent on the overpriced food and drink ($4 for a bottled water, really?). But you know what? We all pay it because it's soooo good!
I continue to be impressed with how the fair is run. It was run this week by an Upper Peninsula-based Authority for a fifth straight year. The Authority contracts with the Delta Commerce Center, and the Chamber manages the event, hires the help, etc.
I believe one main reason for the success of our fair is two-fold.
One: being freed from the regulation and other budrens that existed when the State of Michigan Department of Agriculture ran the event. And two: it is OUR fair. We have an interest in its success.

I have posted a bunch of pictures from my weekend at the Fair on the Local News Page at Radio Results Network.com.

And congratulations to Gladstone teenager Jordan Ives. He won the championship in the 600 CC Microsprnint race Saturday night at the Upper Peninsula International Raceway.
Jordan is used to running late-model stock cars on asphalt, but he "came home" to race on the dirt track before the home crowd. He won the race by more than a half of a lap.
See details of his race at rrnsports.com!

---later, Jack
---
ESCANABA, MI--AUGUST 15, 2014-2:11 A.M.
Governor Rick Snyder spent the day Thursday in Escanaba.
And I tell you this, whether you like him or not politically, you have to admire the man's stamina. I mean, he put in a FULL day, and while it was not heavy lifting like construction work or working in the paper mill, Snyder was at it all day long on Thursday.
I give hm credit. First, it was a breakfast meeting with local business leaders at 8:00 a.m. at the Island Resort and Casino. RRN's Susie Larson represented us as the governor talked about ways U.P. businesses can be competitive in the worldwide marketplace.
When that was done, the governor did several radio interviews over the phone, including one with RRN's Don Curran. He had no idea what the questions would be ahead of time, and answered them without any notes as he rode from Harris to Escanaba.
Then, it was time to attend the Upper Peninsula State Fair. He walked around a bit...that was the easy part.
Then, the governor took part in a ceremony that honored U.P. Veteran of the Year Jim Edberg. Then, it was a ceremony to recognize the fact that the word "Yooper" is being placed in the Merriam-Webster Dictionary.

Then, at noon, Snyder delivered his annual speech to Fairgoers at the Chamber of Commerce Luncheon.
The day continued from there, however. The governor went to the New Page paper mill to see a ribbon-cutting and to tour the new biomass fuel plant there run by Oyma.

Then, at around 4:00, the governor came to the Delta County Historical Society Museum to "resign" legislation that sets up an economic cooperation zone between Marquette and Delta Counties. Then, it was off to a fundraising dinner that was NOT on the public schedule.

No time for relaxing. Constantly on the go. But Snyder still remembered me as the News Guy who usually wears a baseball cap (haha I took mine off today because I was the only one at the event and didn't want to be out of place). A very busy day indeed.

I have dealt with a lot of politicians over the past 19 years in this job. And I feel that Gov. Snyder is pretty much a geninue guy who is kind of 'what-you-see-is-what-you-get'. Whatever his politics are, that's separate. But it seemed to me today that he had more energy that I did!

---later, Jack
---
Next Entry