Jack Hall Blog
WAUPUN, WI--APRIL 27, 2015-1:44 A.M.
Another weekend, another high school baseball road trip for me. But unfortunately, this weekend's trip with the Escanaba Eskymos to Waupun in southern Wisconsin was cut short. And the Eskymos aren't too happy about it, either.
Friday night, the Eskymos rallied for seven runs in the sixth inning to beat Beloit, 10-5. The boys were excited because that win meant that they would play on Saturday on the huge artificial turf field that's part of a $16 million complex in Waupun.
But then, at 11:30 Friday night, Eskymo Coach Kirk Schwalbach got a text saying that the rest of the tournament was cancelled. The text said it was because of Saturday's weather forecast.
Now, there had been rain during Friday night's games and it certainly wasn't pleasant.
But when we checked into the hotel Friday night, we saw on the Weather Channel that there was a 20 percent chance of rain for Saturday, with high temperatures in the 50's.
So, I'm not sure where the Waupun officials got their information. Also, the Waupun folks had bragged that their turf field could handle an inch or two of rain and still be playable. And I agree. It is a beautiful field that our guys really wanted to play on.
On Saturday, it did not rain there at all. It was windy, but sunny. Temperatures were in the 40's in the morning and rose to 50 as we checked out of the hotel and started driving home at noon.
There were eight teams in this tournament, and the Eskymos drove the farthest. Why did they not wait until Saturday morning, and get all of the coaches together, and make a decision?
Again, it's not as if they have awful fields there that flood with one tablespoon of rainwater.
Even their "second field", which Escanaba played on Friday night, is better than most of the fields we play on here in the Upper Peninsula.

I was not privvy to the conversations on which the decision was made. And I am not pointing any fingers.
The Waupun people treated me very well on Friday. I am only writing this to point out that our Eskymos were very disappointed by a decision that they feel was made way too early, and without any consultation with the teams that were involved. It was a big deal for our seniors who wanted to play on their excellent field for the last time. That, I guess, is also a compliment to Waupun Baseball.

---later, Jack
---
ESCANABA, MI--APRIL 24, 2015-1:02 A.M.
This was an absolutely devastating loss for the Detroit Red Wings. If the Wings had lost Thursday night's playoff game to the Tampa Bay Lightning, 5-0, it would have hurt.

But what happened Thursday hurts even more. The Red Wings had a 2-0 lead with seven minutes left in the game, and they were playing so good. They had Tampa on their heels and the crowd at Joe Louis Arena was delerious. But, Tampa scored two goals to tie the game and then won it in overtime.

That is a complete cannon-blast to the heart.

Now, the Wings are still in this playoff chase, tied 2-2 heading into what amounts to a best-of-three series, starting this weekend. So, they're not dead. But I feel that this loss is so devastating that the Red Wings will not be able to bounce back. I hope I am wrong, of course!

But let's be honest, Tampa is all of a sudden in control. Instead of being in the drivers seat, ahead 3 games to 1, now the Lightning have recovered, and they have home-ice advantage again.

Let's hope the Wings bounce back Saturday. The game will be broadcast on Magic 97 WGLQ (FM 97.1) starting at 5:40 Saturday afternoon. Thanks to all of the businesses who sponsor our Red Wings broadcasts!

---later, Jack
---
ESCANABA, MI--APRIL 23, 2015-1:58 A.M.
The debt that we all owe to our men and women who have served in the military over the generations is immeasurable.
Over the generations, our military veterans have put their lives on the line, so that people like me can sit on the couch and complain about politics and how tough our lives are.
Many of us have never been knee-deep in mud inside a jungle in Vietnam. Many of us have never had someone throw a grenade in our direction. Many of us have never had to go to sleep at night and wonder if some awful unknown disease would make us sick, or kill us.

So when I see the Honor Flight take off from the Delta County Airport, I am thankful that so many in our Upper Peninsula community donate the funds needed to allow these folks to spend 12 hours or so in Washington, DC, to see the momuments that have been erected in their honor.

I was a bit alarmed to learn that on this trip, only 11 World War Two veterans were on board the plane. The other 63 were Korean War vets.
That tells me that we are losing our World War Two vets. They are dying, and they are taking with them to their graves the eyewitness accounts of Hitler's horrible reign in Germany. And of Hirohito's terrible reign in Japan.
I feel that we must do whatever we can to learn from these men and women who fought in the 1940's war, and we must learn from the people who were victims of the Holocaust.
Those World War Two eyewitnesses who are still living are now in their late 80's and early 90's. We must learn from them while we can. Seeing these last remaining U.P. veterans be able to spend time with Congessman Benishek (pictured above) and see, in person, the monuments we have put up to honor their sacrafices, well, that makes me feel good.
---later, Jack
---
GLADSTONE, MI--APRIL 22. 2015-2:00 A.M.
High School spring sports seasons are not the same here in the Upper Peninsula as they are in Lower Michigan, or in most of Wisconsin.
Because of where we live, we have to deal with things that they don't have to down there. Things like snow, sleet, wind, and cold rain.

We had all of that in Gladstone Tuesday night as the Gladstone Braves played the Negaunee Miners in baseball, and the Marquette Redettes in softball.
The Gladstone boys pulled out a 7-5 win over Negaunee, as the game was called in the fourth inning. The Gladstone girls rallied from five runs down in the final two innings to post a 5-5 tie with the Redettes, and then the snow forced festivities to end for the night.

Some might say that these games should have never happened. They should have been cancelled early in the afternoon when the weather was predicted to be nasty. But I think more is gained by giving it a shot. The kids got to compete, and they have something to remember for the future.

It wasn't pleasant, but those kids got to have a little fun bonding together as they battled against the elements together. It was a great day to be a Gladstone Brave!

And by the way...a word of prayer and hope for Gladstone Athletic Director Matt Houle. If anyone in our town could be called Mr. Brave, it is Matt! He was rushed to the hospital Monday night, and had work done on his heart on Tuesday. I am told that Matt will recover and will be home soon. I hope that all of you will say a prayer for Matt and his wife, Salli!

---later, Jack
---
ESCANABA, MI--APRIL 21, 2015-2:31 A.M.
Two weeks from today, we will all vote on Proposal One.

Its stated purpose is to raise more money for our roads, but unfortunately, it also spends more money for other things that have nothing to do with road and bridge repairs.
That is why I am still a "no" vote, despite everything I hear from our leaders in Lansing that "this was the best we can do" and "don't you want the roads fixed"?
Yes, I do. I am willing to pay more to do that.
But this proposal is bad because of all of the gimme's that are added to it.
The Detroit News did an editorial that said, basically, "all proposals have things added during compromise that not everyone likes". That is a part of compromise, they said.
I suppose that's true, but that doesn't mean we have to support it.
My opinion means no more than any of your's. I have been talked to by local M-DOT and Road Commission leaders about this issue. Randy VanPortfliet (M-DOT) and Jody Nelson (Delta Road Commission) are good men who honestly think that this proposal is the right way to go.
So, why am I suggesting a "no" vote, even after their comments on this huge issue?
Well, it's all about the "stuff" attached to this proposal. Let me take them one by one.
If you want to restore the Earned Income Tax Credit, which returns to some people all of the taxes that they paid into the state, PLUS they get a check for more than they actually paid in, then let our representatives and governor pass a clean bill to allow just that.

If you want to give school districts hundreds of millions of dollars ON TOP OF what they would lose by changing how gas is taxed in Michigan, then let our representatives and governor pass a clean bill to do just that.

If you want to pump more money into local government services and make up for previous revenue sharing cuts, then let our representatives and governor pass a clean bill to do just that.
Don't add all of these "nice" spending ideas to a bill that is being sold to all of us as being one about the roads. An increase in the state sales tax from 6% to 7% goes to all of the above, NOT to the roads. Make no mistake, with Proposal One, we are all being lied to.
We are being told this about the roads, and it is the "only way" to make the roads safe.
We are given scary scenarios of people dying on Michigan roads because of horrible potholes and terrible pavement. That is an obvious scare tactic. And it's shameful, in my opinion.

I am not denying that Michigan's roads need repairs. I get it. I feel that we need to do a better job of spending the money that we already send to Lansing for this purpose. And after we do that, I agree that we need to find new revenue sources, yes, through possible tax increases.
But to pass this Proposal One, with a Santa Claus list of things that have nothing to do with the roads, is not the way to do it, in my personal opinion. I will vote "no".

---later, Jack
---
ESCANABA, MI--APRIL 17, 2015-1:11 A.M.
A new era has begun for Upper Peninsula high school baseball.
The Bark River-Harris High School now has a varsity baseball team, and the Bronco boys had a successful debut on Thursday, bearting Stephenson, 8-5, in Daggett.

It wasn't that long ago that the only high school baseball programs in the U.P. were in Sault Ste. Marie, and, as of 2002, in Escanaba. Can't do it because of the long winters, we were told. Well, there are a lot of people who love baseball up here, and a lot of kids who grew up playing Little League in the summers. Why not have high school baseball in the U.P.?

Well, Superior Central made the plunge a few years back. Then it was Norway. Then it was Marquette. Two years ago, it was Gladstone. Last year, it was North Central. And now, Bark River- Harris, with some good talented players like Drake Draze and Logan Heim.
The U.P. is always, it seems, discounted by some downstate.
But how about Gladstone winning the state championship in softball last year, and the Braves baseball team making the Final Four?
How about St. Ignace and Calumet winning girls basketball state championships, and North Central winning a boys state championship?
How about Ishpeming winning two football state championships in a row in recent years, and how about the Escanaba and Houghton hockey teams making it to Compuware this spring?

Our kids up here can compete against anyone the State of Michigan has to offer.
All we have to do as adults is give these kids the opportunity. And Bark River-Harris is the latest to do that in baseball, and, by the way, the new BR-H girls softball team won their opener, too, on Wednesday! Good job, kids...

---later, Jack
---
WELLS, MI--APRIL 16. 2015-2:44 A.M.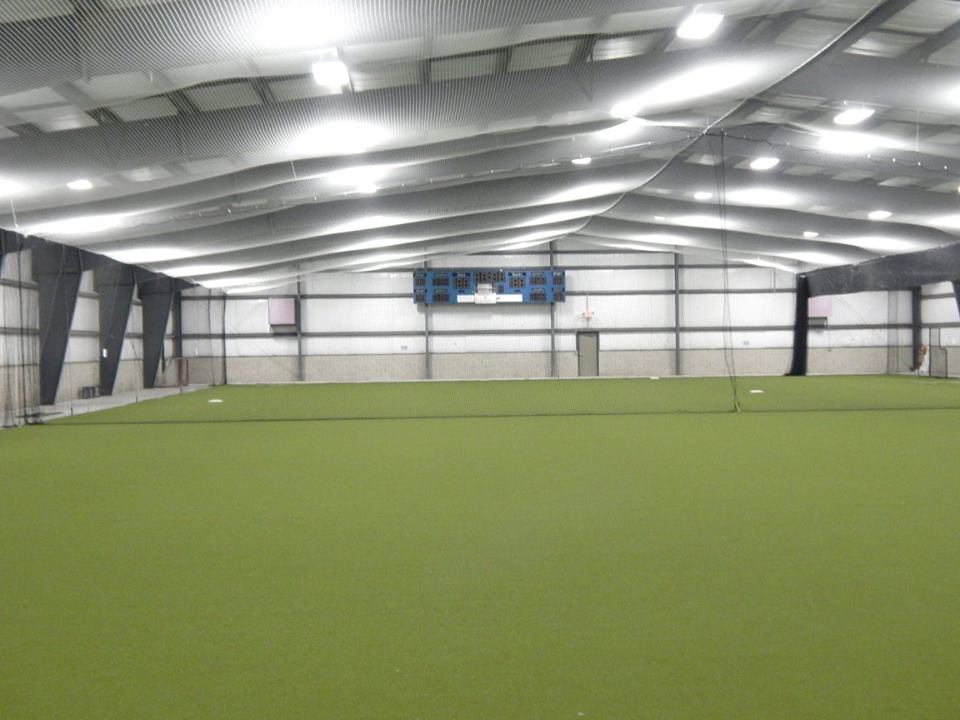 The Wells Sports Complex has been renamed the Hannahville Ice and Turf Complex after the Hannahville Indian Community paid to make major upgrades to what was the "second ice sheet" years ago.
That facility hadn't been used for years, and it was a huge waste.
Well, late last year, the Delta County youth oftball, soccer, and baseball communities formed an ad hoc committee to look for ways to re-use that part of the complex. The result? Hannahville, the Dagenais Foundation, and other local donors stepped up, and now that old unused rink has been retrofitted into a new 20,000 square foot a "turf room" that local soccer, baseball, softball, and tennis teams can use.
The new room has nets and batting cages for baseball and softball, and it also includes a ten-foot wide track. Lots of kids have already used it. It is a great thing for the kids in our community.
And Hannahville should be praised. They often do things behind the scenes that many of us don't hear about. For example, the tribe also stepped up a couple of years ago to help the Wells Sports Complex buy new energy-efficient compressors for the main ice rink.

That saved the rink $30,000-40,000 a year in energy costs. And it prevented the possibility of that rink being shut down for good. Then, where would our kids play hockey and have figure skating? It may have been lost to our community, if the tribe had not helped out.
And so, while the building bears the name of the Hannahville Indian Community, it remains owned by Wells Township, and will be run by the Sports Complex Authority. But now every one of you knows exactly who saved this facility from financial ruin. Hannahville did.

---later, Jack
---
ESCANABA, MI--APRIL 15, 2015-2:00 A.M.
The next few weeks will be like heaven for me.

The NHL Stanley Cup Playoffs get going Wednesday night. And for me, every night, when I get home for work, I will be glued to the television, watching what I believe is the greatest sports tournament in the world.

I always root for the Canadian teams, because that is where I am from, and it is where the game of hockey is loved by the most passionate fans. This year, five of the NHL's seven Canadian franchises are in the playoffs. Unfortuately (in my opinion), four of them will face each other, as Montreal takes on Ottawa, and Calgary takes on Vancouver. Both will be wars!

I am also hoping that Winnipeg can somehow upset top-seeded Anaheim. Hopefully, the Jets can at least beat the Ducks once in Winnipeg so those crazy fans can celebrate.

But above the Canadian teams that I root for, it's the Detroit Red Wings. I love the Wings more than any other team, and I am hopeful for their first round series against Tampa Bay, even though the Lightning kind of dominated the Red Wings during the regular season.

Wings Coach Mike Babcock has chosen youngster Peter Mrazek to be the starting goaltender, over veteran Jimmy Howard. I am worried about this. But Babcock knows what he's doing, and he knows more about NHL hockey than I do, that's for sure!

The Wings-Lightning first game is Thursday night and you can hear all of the action, across much of the Upper Peninsula, on Magic 97 WGLQ...FM 97.1. Go Wings!

---later, Jack
---
ESCANABA, MI--APRIL 14. 2015-1:12 A.M.
It's been four years since a young man was found dead inside a burning car on Escanaba's south side.
But Escanaba Public Safety Detective Darin Hunter has not forgotten, and has not given up on finding the person or persons responsible for the death of 26-year-old Adam Campbell.
It was at 3:30 in the morning on April 9, 2011, when Escanaba Public Safety responded to a routine call to put out a car fire in an alley in the 300 block of South 19th Street. When they looked inside the vehicle, officers were horrified to find Campbell, dead.
Hunter told me on Monday that the investigation has never ended.
"We've done countless interviews and taken sworn depositions. I want to say that, off the top of my head, I have at least 35 sworn depositions," Hunter said. "We've had a number of items submitted to the MSP (Michigan State Police) Crime Lab for analysis, looking for any type of forensic evidence that we could use to help solve this case."
But so far, there have been very few forensic clues to help investigators get closer to pinpointing who caused Campbell's death. The best evidence Hunter has so far is surveillance video inside downtown Escanaba bars that Campbell visited that night.
"I was able to, along with the help of other detectives in the area, pretty much 'timeline' Adam's last hours. What I'm missing, though, is that very critical LAST hour of Adam's life. Obviously, that last hour contained his death."
Hunter, and the entire public safety department, are hanuted by this kind of a crime, which, fortunately, happens very infrequently in Escanaba.
"It's one of those that's been etched in my mind because I know that, after not only talking with Adam's mom, and Adam's (now deceased) dad, they want some closure," Hunter said. "It's something that not only the mother needs, his daughter needs, the community needs closure as well."
And so Hunter is making this appeal to the public, as the four-year anniversary of Campbell's death passes.
"I'm looking for somebody to step up, that may have been involved, or may have been told what happened directly by the persons involved," an emotional Hunter told RRN News Monday afternoon. "I need for that person to dig down deep. I can understand if they're scared. I can understand if they're worried. But if it was someone in your family, or your own child, I would hope that you'd want that person to come forward."
Technically, this is not a "murder" investigation, although Hunter calls Campbell's death "suspicious" and foul play is certainly believed to have been involved. There is a reward of up to $6,000 being offered for information that leads police to whoever caused Campbell's death.
A special Facebook page called "Justice for Adam Campbell" has been up ever since his death, and the Escanaba Public Safety Department has a Facebook page where you can send private messages with information. You can also call 786-5911 and give information that way, and you can remain anonymous.
---
ESCANABA, MI--APRIL 13, 2015-1:02 A.M.
The Detroit Tigers won again on Sunday and they have finished the first week of the season with a 6-0 record. Hope they can keep it up all summer long. That bullpen is still a disaster waiting to happen, and not many Tigers fans have faith in Joe Nathan to actually close a game.

But, 6-0 is 6-0, and I will enjoy it for now. On the other end of the dial, the Milwaukee Brewers are off to a 1-5 start. Ouch! And my favorite team of all time, the Chicago Cubs, are 3-2. Not sure what to think of them just yet. But baseball is a long season, so we shall see!

Personally, I will put the baseball season in the back of my mind for a bit. The NHL Stanley Cup Playoffs get under way this Wednesday. The Detroit Red Wings are in for a 24th straight year and will open against Tampa Bay. And five Canadian teams made the final 16!

Add to all of that the high school baseball season getting under way, and I have a lot to keep me occupied over the next few weeks. It's a great time of year!

---later, Jack
---
Next Entry